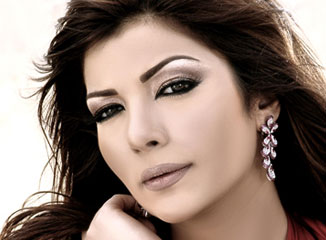 With her stunningly powerful voice and her mastery of traditional, clasical and popular styles, Assala is considered by many the heir apparent to the icon of living Arab singer, Fairuz. Assala was born in Damascus, Syria and began her musical career by performing patriotic, religious and children's songs when she was four years old. She sang the theme song, "Qessas Al Sho'oub" for the cartoon show "Hekayat Alamiyah." Mostafa Nasri, Assala's father, was a revered Syrian composer and singer who recognized her singing talent early on and launched her singing career. She was very attached to her father who taught her to love music. Assala name poetic in Arabic means the original one. In 1986, Mostafa Nasri passed away after suffering from internal bleeding caused by a car accident. The passing of Assala's father caused her great grief and she left singing and took up her duties as the eldest child. At the young age of seventeen, she took care of her siblings, Reem, Amani, Ayman and Ayham with her mother.
Assala's returned to music a 5years later and her commercial musical career debuted in 1991 with Law Ta'rafou. The album had four songs in the oriental operatic Tarab style. The album was an instant hit with heartbreaking songs like "Ya Sabra Yana" and "Samehtak Ketir." She quickly cemented her presence in a growing industry brimming with new, young talent like Najwa Karam, Saber Rebai, Angham, and Abdelmajeed Abdullah. She has released 21 studio albums and her most recent album, Nos Halah, debuted at No. 1 on Rotana's Top 5 chart in both Egypt and Lebanon. In its third week it peaked back at No. 1 on Egypt's Top 5 albums chart and in the following weeks it peaked at No. 2 on the Khaleeji chart.
Assala was granted Bahraini citizenship by Bahraini King Hamad bin Isa Al Khalifa a few days after she gave a spectacular performance in the operetta Love and Loyalty in celebration of Bahrain's Independence Day. Assala holds three citizenships; Syria, Bahrain, and Egypt and is beloved by all and considered the original heart and spirit of the Arab world through her performances and songs today.
For more information contact us at [email protected]